How to Jump Start a Car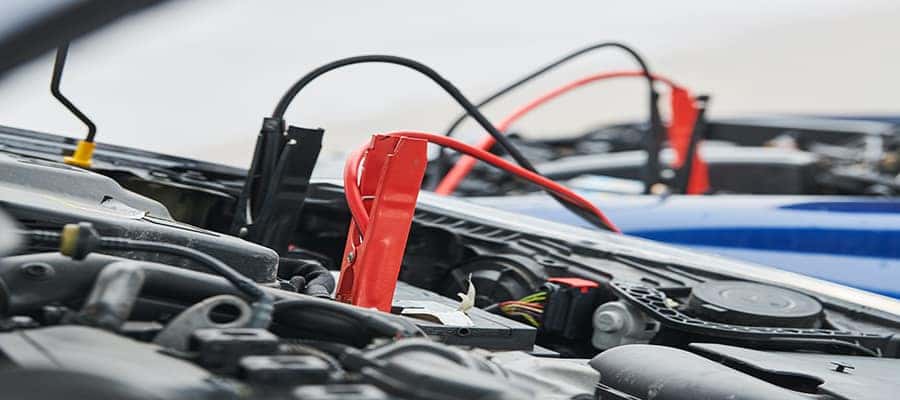 If your vehicle won't start, you likely need to jump start your car battery. Follow this guide on how to properly jump start a car from Riverside Buick GMC. If your battery is nearing the end of its life, visit our service center near Canton for a replacement.
The Proper Way to Jump Start a Car
There are a few things you'll need before jump-starting a car. For starters, make sure you have a set of jumper cables and another vehicle. You can also take advantage of services like AAA. From there, follow these steps:
Have the car with the good battery park facing the other vehicle, then make sure that vehicle is turned off. Check to make sure both parking brakes are engaged.
Open both hoods and find the batteries. You may need to remove a plastic hood to expose the battery terminals.
Identify the positive and negative terminals. Make sure they're clean and free of any corrosion.
Connect the red clamp to the positive post on the dead battery.
Uncoiling the battery cable, hook the other red clamp to the positive terminal of the battery with the charge.
Connect the black clamp to the negative post on the good battery.
For the final clamp, connect it to an unpainted metal surface on the car's frame
Once everything is hooked up securely, start the engine of the vehicle with the good battery first, then start the car with the dead battery.
More Battery Tips and Tricks
If your car won't jump start, you may need a battery replacement, or it may be a sign of a more serious problem. Take these steps to troubleshoot the issue:
If you try and start the car but only hear a clicking sound, the starter might not be functioning.

Schedule service

at Riverside Buick GMC near Acworth for a replacement.
If the electrical systems of the car turn on, but the engine fails to turn over, the problem could be a number of issues. The ignition switch, battery, starter, or a fuse could be the problem. It's worth bringing your vehicle to a service center so they can diagnose the issue.
Be sure to keep your vehicle running for a while after getting the jump. That allows the battery to recharge fully after it's been drained.
Turn to Riverside Buick GMC for Service
Whether you need help with a new battery or an oil change, we can help. Our service center is located just a short trip from Calhoun, so stop by today or contact us with any questions about our models, services, or even to learn how to clean leather seats.
More from More from Riverside Buick GMC
The 2020 GMC Sierra 1500 interior provides Rome drivers with the technology and conveniences needed on any commute. Check out the available features, high-end materials, and more that can be had in Sierra interiors at Riverside Buick GMC then take your favorite GMC Sierra for a test drive! View Sierra 1500 Inventory Apply for Financing Contact Us…

The 2020 GMC Acadia boasts impressive detail and precise design within its interior. This mid-size, 7-seat SUV is available with options or accessories that'll make you want to drive around Rome all day long. Learn more about the dynamic control features, roomy cargo area, and more the 2020 GMC Acadia interior has to offer you…

The 2019 GMC Yukon has a spacious and high-tech interior, strong towing capabilities, and plenty of configurations to choose from, giving Rome families a vehicle that provides everything they need and then some. Learn more about the GMC Yukon configurations at Riverside Buick GMC and drive off in your favorite. Learn MoreBrowse Inventory GMC Yukon Trim Levels Yukon…